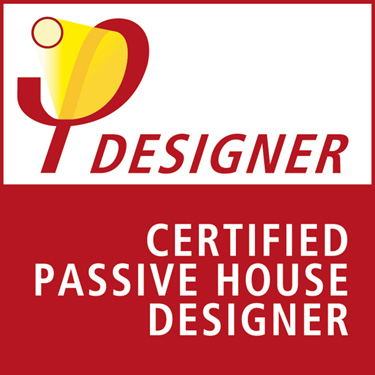 Certified EU Passive House Designer
Passive houses are exceptionally energy efficient using about 90% less energy than a typical house and have very low running costs. The standard requires that houses are well insulated and completely air tight with fresh air supplied through a ventilation system. Passive houses have optimum internal environments for living which are warm and draft free with excellent indoor air quality.
The specific criteria for meeting this standard requires that a building have the following;

Passive House is clearly the uppermost standard for energy efficiency. It is achieved through a carefully balanced equation taking into account many factors such as building orientation, size of windows etc which are assessed using PHPP software. Whilst not all of our projects can be designed to be certified we use the Passive House standard as a benchmark for energy efficiency and assess many of our projects using the PHPP software. We strive to improve thermal performance and reduce running costs for all projects and where it is appropriate we incorporate the Passive House principles to help achieve this.